Turnkey Construction Managent Has Moved Online, Take a Look Back at Where We Started
Television:
Bob Turney was recently acknowledged by ABC's Channel 7 News in San Francisco, CA. Please watch the video and find out how Turnkey Institute helps construction workers become construction managers!
New Directions for Vetrans in Los Angeles:
Mr. Turney had a very successful partnership with NDVets and won awards for Perfect Placement of his Veterans from the South Bay Workforce Investment Board in 2006 & 2007
Newspapers: 
See articles about Turnkey below…
East Bay Business Journal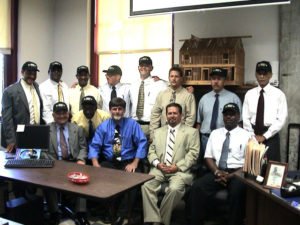 "Construction institute rebuilds injured workers' skills"
He fell off a 15-story building in downtown Oakland eight years ago, "luckily" crashing two floors down onto a pile of Alhambra bottles and scrap. With both ankles broken, Bob Turney walked down the remaining 13 flights in shock, not knowing his career in construction had changed forever.
But it had not ended. Through his Turnkey Construction Management Institute, Turney now helps other injured workers to see the benefit of using their brains to earn a living.
…The Castro Valley institution provides training for estimators, project managers and superintendent positions. Turney said 85% of his students have been placed in construction-related jobs, most of whom are making an average starting salary of $35,000. Five students who graduated Friday will start work this Monday, and one will be pulling in $62,000 as an electrician.
Daily Review 
"Program provides special alternative to badly injured workers"
Ron Hall and his sons worry monthly if they are going to be evicted and daily if they will have food on the dinner table.
Hall is not an irresponsible parent. He lost his job as a plumber in December because of a job-related back injury and says he has been chewed up and spit out by insurance companies ever since.
A plumber for 25 years, the father of two is now working on a brighter future for himself and his sons through a Castro Valley education center devoted to injured construction workers, Turnkey Construction Management Institute.
My life is destroyed right now,' Hall said as he shifted rigidly in a chair. He can't pay for his son's 6th grade camp right now, but he anticipates being able to afford a comfortable livelihood once again:
'This here is my future. This school is my future.'
Everyone in the small school has a story to tell about labor injuries and the hardships that come with being shut out of a professional career because of a large and physically painful mistake.
Bob Turney, the owner, instructor and emotional support system for the school and students, knows how hard it is to get back on track after an industrial accident. While working on a building in downtown Oakland, he fell two stories and suffered hairline fractures on his ankles that doctors said would never heal. He was also told that he could never participate in a labor-related career.
With his disability insurance, Turney entered a vocational program and was inspired to open his own program for injured construction workers in the Bay Area.
'My wife and I just want to help injured construction workers, that's it,' Turney said. The 14-person, 14-week school has an intimate atmosphere and the courses are self-paced. Enrollment is on a continual basis so students begin courses Monday and others graduate Friday.
Graduate Dixon Ferrin, a former heavy equipment operator and now a self-employed estimator for Spa Doctors, went to work almost immediately after he graduated from Turnkey. Without the education he received there, Ferrin doesn't know what he would be doing now that he can't work with heavy machinery.
'That would be hard to say. With the back injury I had at my age I'd probably be flipping hamburgers,' he said..
Castro Valley Chamber of Commerce Official Newsletter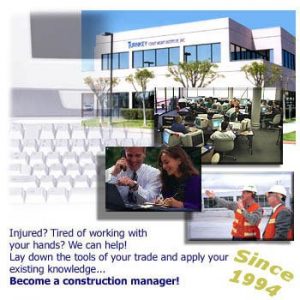 April 2001 Robert and Rhonda Turney of Turnkey Const Mgt Inst Inc have seen their business virtually double every year since it's founding in 1994!
Their private postsecondary vocational and education approved school's primary course of instruction is specifically construction estimating and project management. Their main clients are injured construction workers, although they have trained injured respiratory therapists, bartenders, truck drivers, paramedics, airport technicians, sanitation workers and private clients to succeed in this industry.
Turnkey, marketing via the Internet and school resource fairs, now have students in their Distance Education course all over the U.S. as well as Canada and even American Samoa. They have recently opened a southern California branch in Colton, California to meet the demand from the vocational rehabilitation industry.
Turnkey Const Mgt Inst Inc in Castro Valley is located a 3160 Castro Valley Blvd – across from BART parking. For further information call
(510) 537-2338 OR E-MAIL bob@turnkeyinstitute.com.